We are PART P registered, ELECSA approved contractors. Being a part of this scheme means that we are able to report works via ELECSA to building control and ensure all work carried out is compliant with building regulations. Our work is regularly assessed to ensure that we meet the industry standards. We have public liability insurance cover up to £5,000,000, click here to see all our policies and accreditation's.
What is the ELECSA Approved Contractor Scheme?
ELECSA Approved Contractor Scheme is designed to maintain and publish a register of electrical contractors that have been assessed against a specific set of competency requirements, in particular the national electrical safety standard BS 7671 the IEE Wiring Regulations.
Registered contractors will work to the UK national standard, BS 7671, and will issue a safety certificate for their electrical work to confirm that the installation has been designed, constructed, inspected and tested in accordance with the standard.
The ELECSA Approved Contractor Scheme is accredited by the United Kingdom Accreditation Service (UKAS) to EN 45011 – General requirements for bodies operating product certification systems. Accreditation ensures that the scheme is operated with independence and integrity and that it focuses on the quality and safety of the final installation.
What is a Part P Approved Contractor?
Part P The specific section of the Building Regulations for England and Wales that relates to electrical installations in domestic properties. Part P provides safety regulations to protect householders, and requires most domestic electrical work to be carried out by government-registered electricians, or to be inspected by Building Control officers.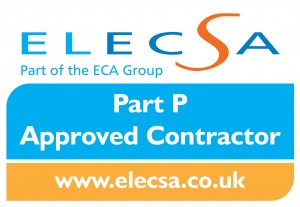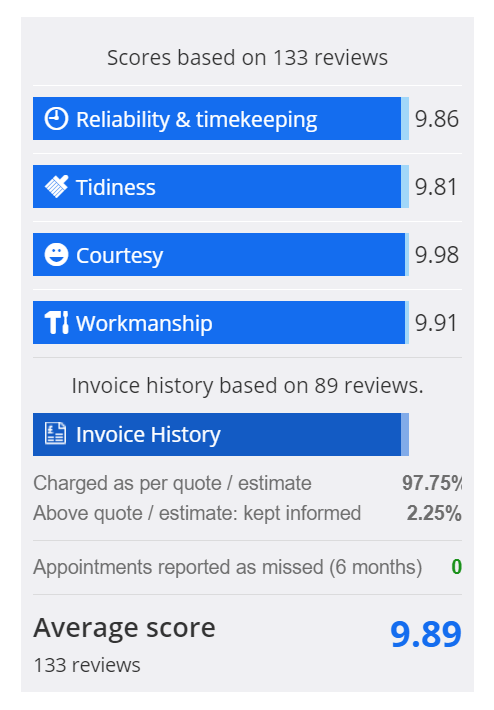 We are a member of Checkatrade who carry out strict background checks on tradespeople before they can be members, being a member of Checkatrade means we have agreed that all customer feedback can go online for all to see. All feedback is verified and not editable by us, we are proud to have a high feedback score of 9.89, click here to see our Checkatrade profile.
Being a member of Checkatrade means we are also Kent County Council Trading Standards approved, and have agreed to the following as per The Checkatrade Standard:
Be honest in all dealings with you
Let you know straight away if they can't do the work
Keep appointments and arrive on time (calling in advance if they need to reschedule)
Be realistic about when they can start work and how long it will take
Be courteous. Treat you, your property and belongings with respect
Keep you in the picture about all aspects of the work